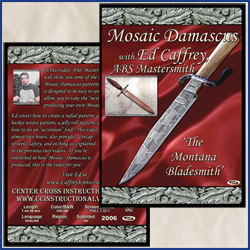 Mosaic Damascus with Ed Caffrey, A.B.S. Mastersmith [Item # 1014]
Ed Caffrey
$45.00
1 hours 49 minutes
Advanced Level
In this video, ABS Mastersmith Ed Caffrey will show you some of the most common Mosaic Damascus patterns. The information is designed to be easy to understand, and will allow you to take the "next logical step" towards producing your own Mosaic Damascus.
Ed covers how to create a radial pattern, a basket weave pattern, a jelly roll pattern, and how to do an "accordion" fold. This video, at almost two hours, also provides a recap of tools, safety, and etching as explained in the previous two videos. If you're interested in how Mosaic Damascus is produced, this is the video for you.
Note: This video is for advanced knifemakers and shows methods using a forge and a hydraulic press.